If you know football, then you probably know Ricky Williams, or at least you know the things you have heard in the news and tabloids. Because I take everything the press says with a grain of salt, I really did not know what to expect when I met this former NFL player just prior to his seminar in Newport Beach Ca. I must say, I was pleasantly surprised how at ease I was when I worked with him. He is a VERY nice guy, very pleasant and inspiring, yes, inspiring! Great guy!
I learned that Ricky is all about healing and being limitless. Ricky is now doing seminars based on the teachings of Access Consciousness, and sharing his gift with everyone. Describing what Access Consciousness in my own words would not do it justice, so here is a direct quote from Access "Access Consciousness is a simple set of tools, techniques and philosophies that allow you to create dynamic change in every area of your life, with your body and with yourself. Access Consciousness™ provides you with step-by-step ways to become totally aware and begin to function as the conscious being you really are. "
Before the seminar started, Ricky, another associate and I walked around the venue to capture some head shots with the beach and marina behind us. Unfortunately, even though it was still early, the sun was harsh and difficult to work with. Later in the day, I had the opportunity to pull him aside for a couple more head shots indoors that turned out really well!
Although I was there to photograph the seminar, I could not help but to hear the teachings of Ricky Williams, and I must say, they were very uplifting, inspiring, and it all made since!
I also had a one on one session to take some head shots of Ricky as well as record an entertaining video between Ricky and NFL old-timer, Cedric Hardman. Listening to them talk about the differences between football then and today was quite intriguing.
Things went really well that day, got some great head shots and Ricky and Cedric seemed to have a lot to talk about. Two weeks later I was hosting a session at my own home with Ricky Williams and Cedric Hardman!
Below are images and a video from both the first day I met Ricky and photographed the seminar, and the day that Ricky and Cedric came to my home so that Ricky could work his magic (figuratively speaking) on Cedric.
Head shots taken of Ricky in Newport Beach Ca.
For demonstration purposes, Ricky having the Bars done on him by an associate of his.
Ricky performing the Bars on Cedric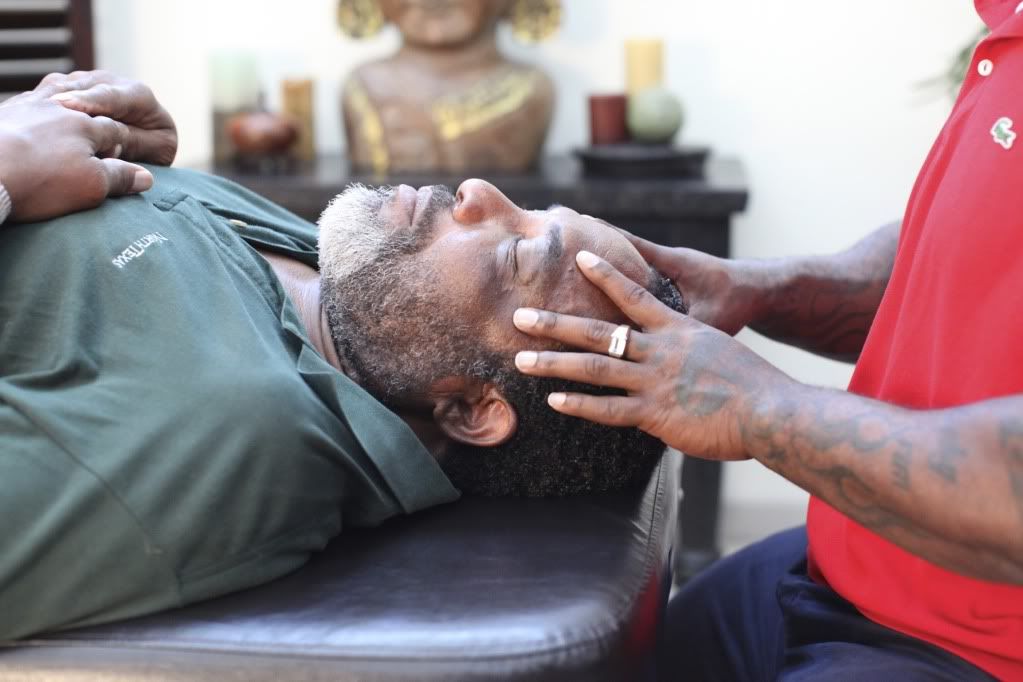 A 60 sec video teaser with Ricky and Cedric. If you want to see more, please visit http://rickywilliams.tv for the official release.